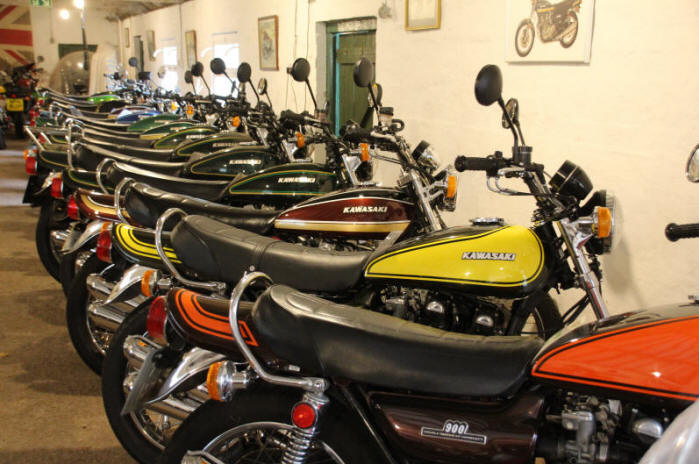 We are life-long classic vehicle enthusiasts and have run our business since 1983.
Selling. Our motorcycle sales business focuses on the 1970s and Kawasaki Z900s are our speciality. We aim to have for sale top quality original specification motorcycles from this golden age of motorcycling. Our interest takes in bikes from the late sixties to the mid eighties. So as well as our Z900's you will also find some lovely classic superbikes from Honda, Suzuki and Yamaha, together with tempting two strokes and a few Triumphs, Laverdas and Moto Guzzis (etc). Our bikes are normally carefully roadtested, serviced and MOTed before sale and most will qualify for cheaper classic insurance.
Restoring Z900's We carefully rebuild a small number of Z900 to "as new" condition. See our Concours Restorations Page and contact us to discuss the specification of your "new" Z1!
Buying. We are always looking to buy original specification motorcycles from this period. We will consider everything from restoration projects through to to top class examples, but only bikes with good identities and documentation please. Most of our stock is bought in the UK, though we will consider European and North American origin machines too.
We also have many years experience dealing in classic cars especially Jaguars and there are usually an interesting selection available here too! However, our real love remains the Kawasaki Z1....
So if you are buying or selling we hope to do business and that you enjoy your visit to our web site.
Coronavirus. We are open by appointment and will also be pleased to talk by phone and answer emails.
We wish everyone the very best at this difficult time.
Thanks for visiting us in virtual reality!
Will & Tom Swinnerton, Classic Bikes Ltd., November 2021.
Classic Bikes Ltd. is registered in England Company No 4693668 and VAT No 435 5072 61
The Kawasaki Z1 900 is our speciality.
See Rod Ker's article, on the Kawasaki Z1 900 .... Including history, evolution and factory model identification information.....
MEET THE "STAFF" at CLASSIC BIKES ;
| | |
| --- | --- |
| Tom & Kate, October 2012 | Kate on her LM4 at Mallory - July 2012 |
| | |
| --- | --- |
| Jeremy Wade in 1934 Le Mans Riley, Sept 2012 | Tom & Will in 1978 |
| | |
| --- | --- |
| George & Kate bring Kenny Muir's lovely original GT750 back to life! Aug 2012 | Kate & Tom with an early H2 750 |
| | |
| --- | --- |
| Ducati Damah (& Will) 1981 | Kate no.87 holds the lead on her Moto Guzzi LM4 - VMCC "BEARS" May 2013 |
SOME of OUR FAVOURITE MACHINES;
| | |
| --- | --- |
| Kawasaki's master work - the Z1 (candy yellow) | A very rare original UK registered Z1 (candy orange) |
| | |
| --- | --- |
| Kate's lovely original 900SS | Tom (on right) admires Andy Lloyds wonderful 100 year old lady friend, a 1913 Chalmers (known as "Judith") May 2013. |
| | |
| --- | --- |
| Jaguar XK120 (& Tom) 1986 | Chris Rushton's Lovely CB750 |
| | |
| --- | --- |
| Our old Range Rover in the Shropshire Snow 2013 | Our Series 1 XJ |
Visitors since 07/12/12