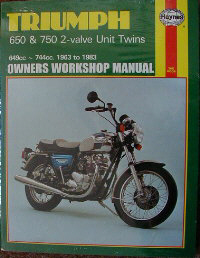 Triumph 650 & 750 2 valve Unit Twins - Haynes Workshop Manual for sale
All models from 1963 to 1983. Including T6, TR6, TR6R, T120R, TR65, T140V, T140E, TSX, T140D, T140ES, T140EX, T140LE, TR7 and TR7T, Bonneville, Trophy, Thunderbird and Tiger models. This is a genuine new Haynes Manual. We use Haynes manuals in our workshop and they are an invaluable aid the service and restoration work.
If you are not happy with this product we will refund your mony less postage on its return (within 7 days).

Price £14.99 + Post and packing for the UK at £1.95